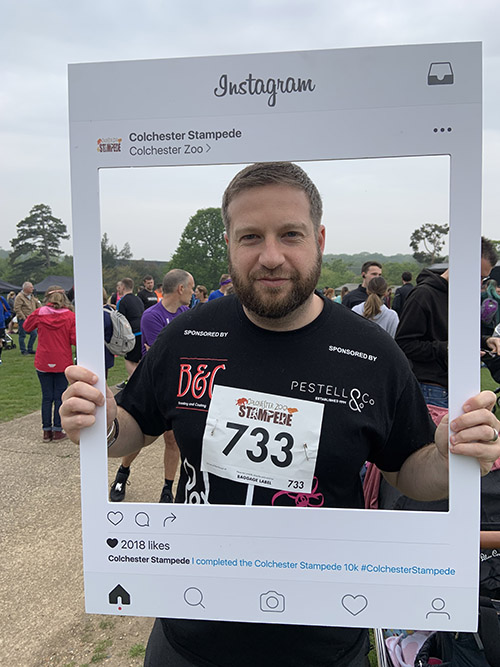 After watching friends take on a 10k race, a throwaway comment about how easy it would be to run 10 races for charity suddenly became a reality. Little did he know but Andrew's wife, Louise, took his comment seriously and created a Just Giving page and told family and friends before he could change his mind. At this point there was no backing out, and it all became about raising as much money for Petals – a charity close to his heart – as he could.
His challenge took place from April to early September 2019 with the majority of races taking place in and around Essex. Here we ask him a few questions about the challenge and why his family decided to support Petals.
Were you a keen runner before you taking up this challenge? Far from it unless it was to the bar! Previously the most I'd ever ran in one go was 3k when I was much younger. This is what made the challenge so appealing I think to everyone, me dragging my rotund body around 100km. So, I set about training using the couch to 10k app, I have some close friends who are keen runners and they took me out on park runs at the weekends. I didn't though buy an actual proper pair of running trainers until a few days before the first run, that was a big mistake!
What was the most enjoyable part of this challenge?  Finishing and realizing that I'd been able to do something so amazing to give back to such a worthy charity. I was also so well supported by my friends, with so many of them joining me on these races.
What was the toughest part of this challenge? After the 2nd race I picked up a serious calf strain. This made training difficult, but it also meant with races happening every other weekend I couldn't rest the injury and it kept flaring up, usually within the first few km's of every race. It meant that I just had to get on with it. Knowing the reason I was doing what I was doing made it easier to deal with the pain.
Your final fundraising total was over £8,000 – how did you manage to raise so much? My wife and I are very lucky to have some amazingly generous family and friends, who have not only supported us through this challenge but have also been there with us throughout our journey. I also had the support of some brilliant local businesses who sponsored me.
The event was in memory of your son Noah, can we ask what motivated you to support Petals with this challenge? Quite simply I just wanted to do something to give back. Petals were there for my family after we lost our son Noah, I witnessed firsthand the support they provide to parents who have been through the same horrific experience. The hospital we were at, at the time did not offer a bereavement counselling onsite, they were in the process of setting up Petals but still required funding. It was this that motivated me, knowing how important Petals were and continue to be to us, I wanted to do something positive meaning that others would have the opportunity to have the same support that we did.
If possible, could you explain in a few words how the support you received from Petals helped your family?  It's almost impossible to put into words the support we've received from Petals; thank you will never suffice. Even before our loss my wife and I had been on a journey. Having gone through 4 failed rounds of IVF, to then finally fall pregnant with twins was unbelievable, but to then suffer the loss of Noah whilst celebrating the birth of his twin Esme it threw our life into a spin again. I've said it before and it's true. Petals saved my wife and I. Without their ongoing support and that of our counsellor Sue we wouldn't have got through the darkest of days, we truly cannot thank them enough. We're now pregnant again and Petals, especially Sue our counsellor continues to support us. Providing invaluable care helping us to distinguish the difference between the two pregnancies. Without Petals there is no question that this burden would have otherwise fallen on the NHS with my wife being back and forth to the hospital regularly.
Is there any advice/ tips you would give to others who are thinking about taking on a challenge for Petals? Don't hesitate, just do it. This is such an exceptionally amazing charity, who do so much to support bereaved parents who have gone through the most unthinkable loss of their lives. All money raised is put to such good use.  No parent ever forgets their loss, it's there with you every day, but with the invaluable support of Petals they provide the tools you need to survive.
We would like to say a huge thank you to Andrew, Louise and Esme for supporting Petals. The money they have raised will be used to help many families in need, supporting them through their loss, for however long they need us.