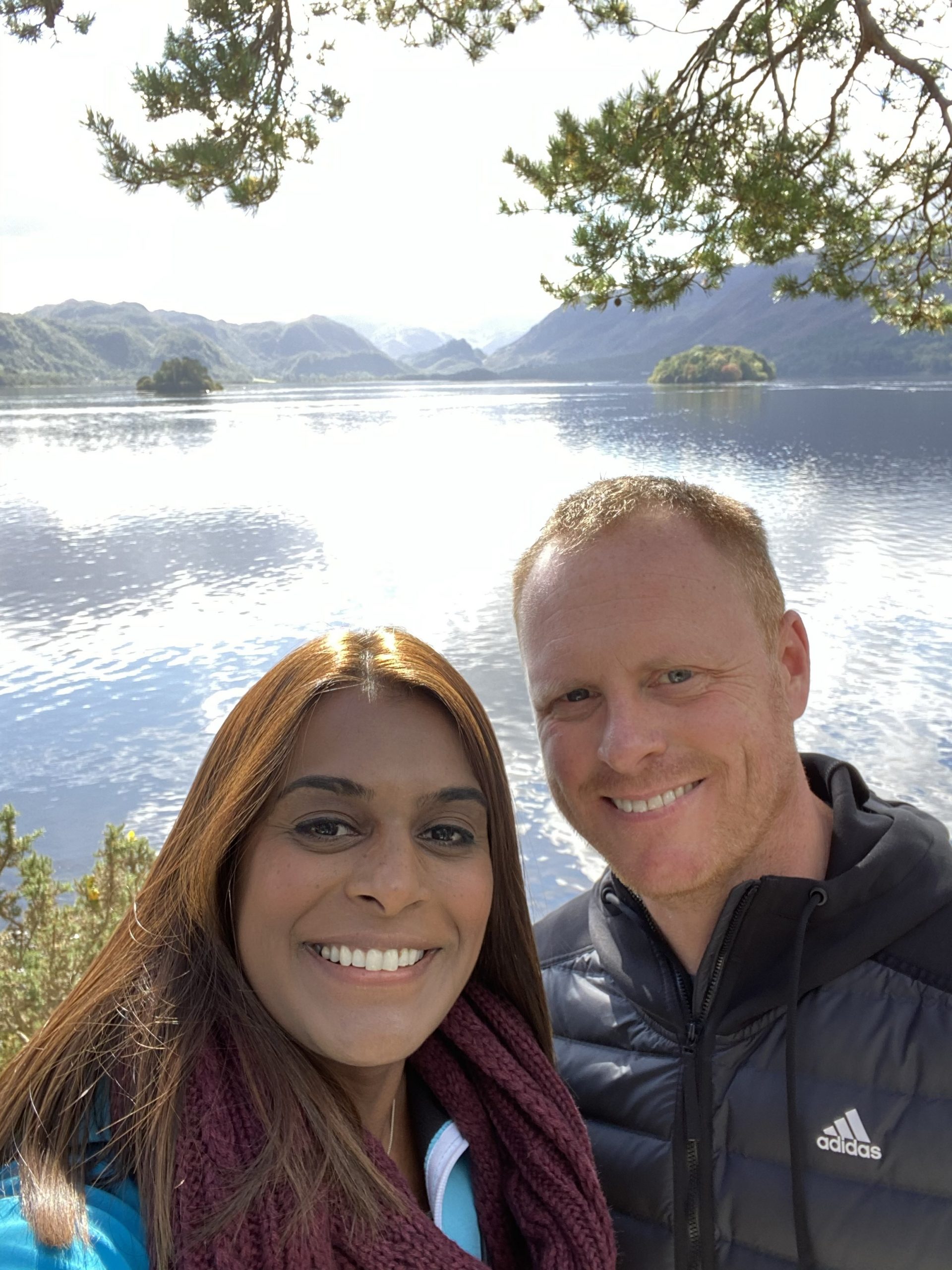 This is the story of Nazneen, Colin and Hannah
Once Colin asked me what my dreams were; I said it has always been my dream to get married and have children. Colin's dream is to fly in a Spitfire; not quite the idyllic 2.4 children and a picket fence of my dreams but his dream no less.  It makes us chuckle because I love to tell this story to family and friends.
We got married in 2018 and I fell pregnant the first time in June 2019, but sadly I miscarried at 10 weeks.  I fell pregnant again in September 2019 and this time we made it to the 12 week scan and to our 20 week scan.  We were having a beautiful girl.  We didn't waste any time naming her and two days later we had settled on Hannah – to then go on to be Hannah Grace.
We had to readjust and settle into Covid life at 6 months of my pregnancy, but everything was perfect, a textbook pregnancy.  We spent our time getting everything ready, Colin would do the shopping, I stayed in, only leaving home for my Government allotted daily walks, not seeing family, not seeing friends.
Hannah was due on 3rd June 2020; on the evening of 1st June 2020 I went into the early stages of labour and at 9.24pm when my first strong contraction hit so did the bleeding.  We rushed straight to hospital.  Covid life meant Colin wasn't allowed in with me, but initially everything was fine, Hannah's heartbeat was strong and all appeared good, nothing to worry about and I text Colin to reassure him.
I was moved to the delivery suite where the midwife struggled to find Hannah's heartbeat, it had dropped so low.  Before I knew it, my bed was being moved and I was being rushed to theatre for an emergency c-section.  They had to try and save Hannah's life, they told me to call Colin.  It was all such a rush, I felt like I was in a movie.  All I kept asking in theatre was, "is there a heartbeat? is there a heartbeat?" There was, they told me, but it was very low.
Whilst I was still under general anaesthetic, Colin had met our daughter and had been told that whilst they had managed to resuscitate Hannah's heart, it was just too weak and she wasn't going to make it.  They had tried everything they could and contacted another hospital for a second opinion too.
I remember Colin coming to my bedside with the consultant and whilst I know this was the moment he told me Hannah wasn't going to make it, I have no memory of what he actually said, all I know is that he came to tell me the heart breaking news.  If I wanted to meet Hannah whilst she was still alive, they said they had to take me to the neonatal unit now.  Still coming to and with my oxygen mask on, we made our way to the unit.
Hannah was all wired up and on a ventilator.  Her head warm in her woolly red hat, she was handed to me to hold.  Oh, she was the most beautiful baby I had ever seen; of course, I am biased.  They told us we could spend as much time as we wanted with her and there was absolutely no rush.  I asked them if there was any chance that she would survive and with a heavy heart, they said no. There are no words for how that felt.  The ventilator was pumping oxygen around her body and she had a heartbeat, but she wasn't breathing on her own.  We both knew what we needed to do and looked to each other with knowing.  We didn't want Hannah to continue to suffer, we spent time with her, prayed with her, held her and kissed her.  We gave our ok for the ventilator to be removed.   I'll always be thankful that once the ventilator was removed, her heart continued for 5 minutes all on her own and we both held her.  Shortly after Colin held her, Hannah passed away in her daddy's arms.
We spent the next three days in the hospital making memories, our family visiting and meeting their granddaughter, niece and cousin.  The next couple weeks were hard as we prepared for the funeral. We were in limbo, but we managed to get through that too.  We were glad that Hannah was able to rest in peace that day and we continued to visit her every day at the cemetery after that.
The weeks that followed, were quite honestly the hardest and longest of our lives.  But, even though we were in the middle of a pandemic, we never felt alone, family and friends were amazing.
People used to say to me that the milestones will be hard and when the first one came; it really was a hard one to bear.  Hannah should have been there celebrating her first Eid, but she wasn't.  I had thought about the clothes she would have worn and how happy we would have been.  Instead, I sat in my pyjamas and cried all day.  It took me over a week to recover from that first milestone, I was exhausted and drained.  I knew then that I needed to talk to someone.  I had heard of Petals and called them.  I had expected to be on a waiting list for weeks, but I was contacted by my counsellor Chloe only 2 days later and given an appointment for the following week.
The first session over zoom was weird.  I spoke about Hannah and everything that had happened. Chloe then asked me what I wanted to get out of these counselling sessions.  I thought to myself, well, I don't know, I just want to talk to someone, what a weird question to ask.  But instead I just said "I'm not sure".  I thought about the question all week and went to my second session with my thoughts and feelings and explored them with Chloe, she helped guide me and I started to get into a flow.  Her question made sense after all.  I would talk about the thoughts that were in my head; one in particular being, "am I normal?"  I didn't appear to get upset by pregnant women or other women with babies, instead I found beauty in their happiness, to which she replied, "but what is normal?" and it went from there.  She helped me understand and accept my feelings, that it was ok to feel the way I felt, that "it was ok, to be ok".  I can honestly say, Petals counselling is the best thing I did as part of my journey and soon it didn't even feel like we were on zoom, I had really connected with Chloe and she truly helped me through.  Whilst I am still very much in the early stages of my grief, 5 months down the line, I implement everything she taught me and it helps me get through each day.
I am so hopeful and positive for the future.  I believe my dreams will come true (and Colin will fly in a spitfire).  I'm half way there already, I am married to the love of my life and we will become parents; for me it's not an if, but when.