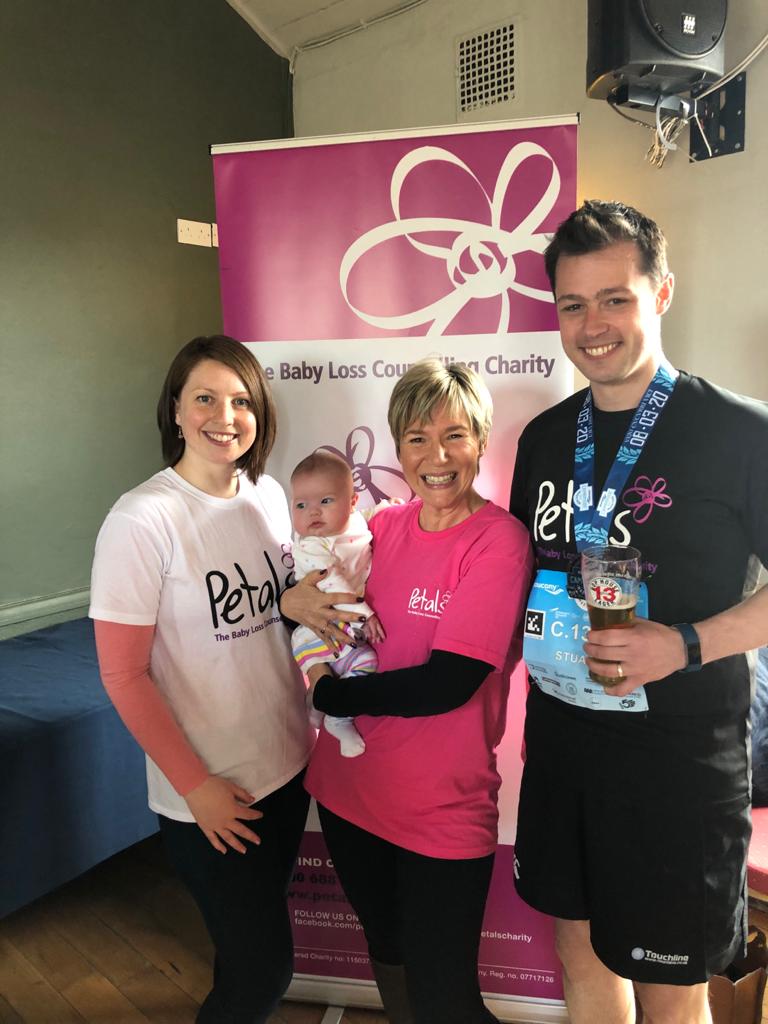 This is the story of Stuart and Kerry
We made the decision that the time was right to start our family, we had our home and I was probably as grown up as I would ever be. It all seemed perfect. We didn't fall pregnant straight away but we weren't too concerned, we believed in our dream and it would happen.
We went on holiday and we were looking forward to a week in the sun to relax and unwind. Kerry had barely slept at all in the first night. She told me that she thought we were pregnant but that she was in pain, and thought she was having a miscarriage. I went to the front desk and got them to call a Doctor, we were loaded into a minibus and taken to the medical centre. Kerry was very pale and whilst being examined fainted. We were taken by ambulance to the hospital with the doctor coming with us and closing his surgery to be with Kerry, at that point I knew it was serious.
At the hospital we were seen by more doctors who scanned Kerry but never spoke to us. A third doctor came in and all I can remember him saying is 'life and death' and taking Kerry away. I sat in the waiting area with other dads, they were excited and looking forward to seeing their newborns for the first time, I felt my world was falling apart and was just hoping I would see Kerry again.
Kerry spent a week in hospital we found out that she had a ruptured ectopic pregnancy and had lost over 4 units of blood. When we returned home we didn't get any support as we weren't in the UK system due to us being treated abroad. We had our friends and family but we didn't know anyone who had been through this before and it was tough.
When we finally fell pregnant for a second time we were delighted but anxious at the same time. We kept it to ourselves until we could have our early scan to prove it to ourselves that what we had always wanted was real. I was at work when Kerry phoned me to say that she was having pains again and was going to hospital just to get it checked out. I was hoping that it was nothing but we both knew in our hearts what was coming. I left work and went to the hospital. Kerry had surgery that evening – another ruptured ectopic pregnancy. This time, we were pointed to Petals who had started offering counselling in our area.
We contacted them through the website and were quickly picked up and had our sessions with Karen. I felt relieved that we did. After our second loss I felt useless. I could see Kerry was in pain but I couldn't do anything to make her feel better. We had all our sessions together as a couple and they helped us immensely. We were open and honest even though at times it was hard to say the way that we were feeling, it felt comforting to hear that it was normal. We were able to discuss both of our losses and what our future holds.
We then embarked upon our IVF journey in which we had to overcome even more complications and spent far too many days and nights in hospital, however Petals were there again to support us. We are thankful that we now have a baby girl and got to introduce her to Karen.
Petals has helped us immeasurably. I wouldn't like to think how we would be without their support. After going through two losses, one without support and one with the support of Petals, it is clear to me that you have to talk to someone and you won't find better people to talk to than at Petals.
If you are or know a man who'd like to connect with other men who've experienced pregnancy or baby loss, you can join our private Facebook group, Petals Dads.