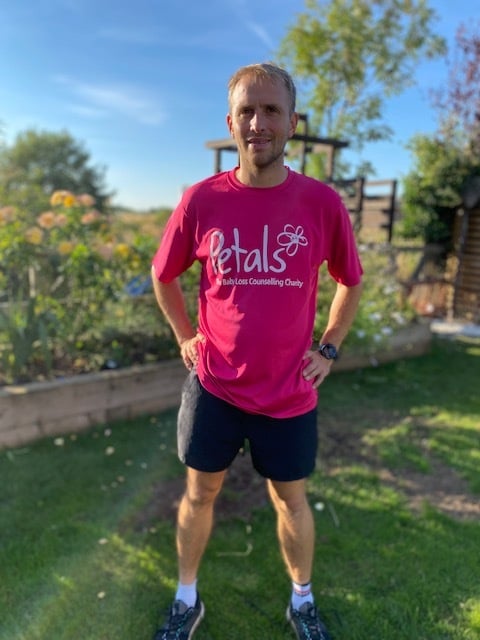 "The support we received from Petals, and our counsellor saved our family. "
James & Danni
James and Danni are supporting Petals by James running the London Marathon 2021. Taking on a charity place takes a huge amount of dedication and persistence. Not only with training but also fundraising. We're so grateful to them both for supporting Petals and below they share their story.
In 2015, Danni and I were expecting our third child. We had 2 beautiful daughters, Poppy and Emma, and although Danni had suffered very badly with sickness, both pregnancies had been relatively straightforward. We were still naïve to the realities of what pregnancy can be. This all changed on March fifth, 2015.
When I was at work, Danni called to say that she hadn't been woken by any movement during the night, which was unusual. So, we went through the usual things of getting up and moving around, breakfast, and a warm bath. But still nothing. Danni called the hospital, and they advised that we go in just to check everything was ok, for peace of mind.
I came home from work, and we left straight away. It was a quiet 20-minute journey to the hospital, I dropped Danni at the door and went to park the car. I made my way to the ward, and found Danni in a side room, the nurse was just leaving to find a doctor. Danni was white…there was no heartbeat. We were rushed out of the room, surrounded by a ring of nurses through the corridors to a room where a consultant sonographer was waiting. They scanned Danni, and confirmed what we had already realised.
Bethan was born later that day, beautiful and perfectly formed, but sleeping. Words cannot describe the pain we experienced that day, or for many days and weeks following.
The hospital had given us a memory box, photos, hand and foot prints, a toy bear and a leaflet. That leaflet was for Petals.
The support we received from Petals, and our counsellor Sue saved our family. Without their support I don't know how we would have been able to parent Poppy and Emma. I don't know what might have been of our relationship, but the support from Petals brought us closer, when otherwise we might have drifted apart. So many thoughts of blame and guilt arrive after such a tragic loss, with the help from Petals we worked through them together. Petals can't give you the answers to your questions, but they will support you to find them within yourself.
Petals is a charity that relies heavily on fundraising and donations. The London Marathon is the biggest fundraising event in the world, the opportunity to represent such a valuable charity at such an iconic event was one that I couldn't let pass, and I am extremely proud to be running for Petals.
I have run the London Marathon twice before, once in 2004 to impress Danni, and again in 2019 to raise money for The Royal Marsden Charity, following the death of my Dad. I have also undertaken a Half Ironman Distance Triathlon to raise money for SANDS. I am a keen runner, and very much enjoy the challenge of an endurance event. I find that supporting a charity with such personal importance helps me to focus on my training when times get hard. The early morning long runs, or speed sessions in the wind and rain all seem a little easier when you remember why you're doing it.
The main part of my fundraising is done on social media, but as a small business owner I have also lent on business and clients.
I think the key to fundraising is to connect with people. So many people go through very similar things in life. It can be very difficult to share personal experiences with people, especially difficult to put down in words on a social media post. Stillbirth is still a taboo subject, and leaving stories on social media can leave you feeling very vulnerable, but I feel that when people can relate to your experiences, they are more likely to donate.