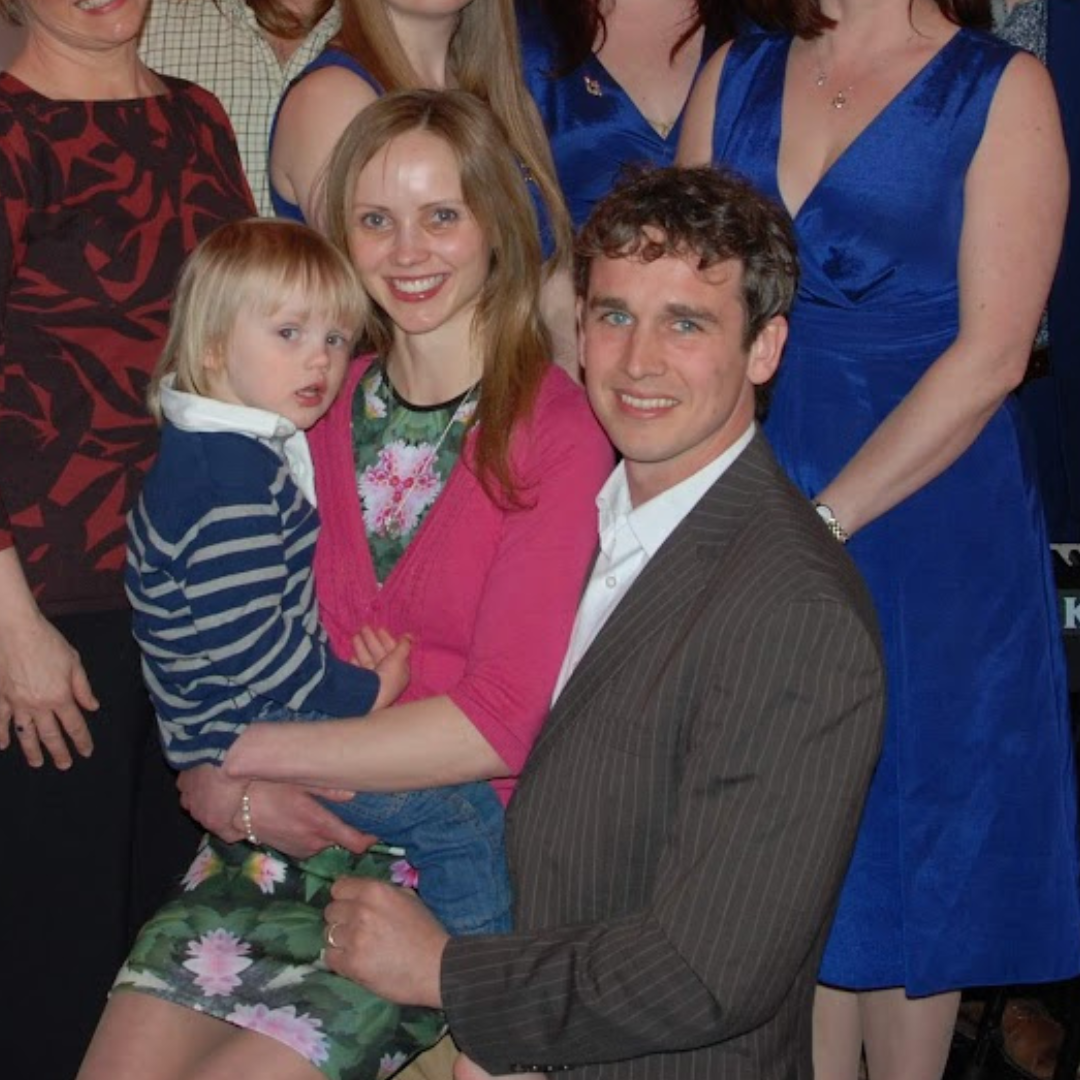 Emma & James – 10th Anniversary Case Study – for Bonnie
 In the compilation of this 10th Anniversary case study collection, all the stories I have listened to have brought tears to my eyes at one stage or another.  All the voices I have heard have shared personal moments of heartbreak and I have felt honoured to hear them all firsthand – there is nothing that connects us more as human beings than the telling and hearing of each other's stories.  Perhaps the most moving to hear have been the voices telling the stories where there could have been a different outcome, where mistakes were made that were completely out of the parents' control, where the death of a baby could have been prevented. 
In listening to these stories, I have been truly humbled by the strength of the parents involved.  They have experienced the unimaginable but ultimately their stories still brim with love, and I am left every time with a sense of peace – this is very much the case when I spoke to Emma and James who told me about their daughter Bonnie who died during childbirth in 2015.
Emma explains to me that the pregnancy had been uneventful, but that Bonnie was in the breech position. Continuing the story of Bonnie's birth, she says: "Labour was going quickly and well, and everyone was commenting on what a good breech birth it was. It wasn't until near the end when Bonnie was partly delivered, that they decided to keep hands-off and let her come on her own and tragically Bonnie was left for too long without intervention and died of a lack of oxygen when she was halfway out. 
It was extremely traumatic, and I remember saying, 'it seems like she's been there for quite a while now, does she not need to come out?' they said, 'oh no, it's best to let her come on her own' and in that time she died.  Then, the alarm bells were rung, and the consultant was called to attend, but in hindsight, this request should have been made much earlier. They tried to resuscitate Bonnie unsuccessfully.  It was so traumatic, and then you have to make those horrible phone calls, I remember making those awful phone calls you know, to mum."
At the memory of having to say aloud the words that no parent ever thinks they will have to say, Emma's voice breaks as it does again when she tells me: "Our family came to visit her and we got to spend a day with Bonnie before we had to leave and that's another awful thing – you never expect that you'll have to leave your baby in the hospital and go home without them, you never expect that will happen to you."
As if this wasn't enough to contend with, a couple of weeks after the couple returned home, Emma became seriously ill with a twisted bowel and was rushed to hospital for emergency surgery followed by a stay in intensive care.  Emma explains the impact of this on her: "I was just in complete shock – shock from Bonnie and shock from surgery and I feel like I just went into survival mode and then I had a long road of recovery. We moved in with family as I wasn't allowed to lift my son Percy, who was two at the time. So, all of this changed things a lot and probably delayed the whole grieving process for me."
James, as the person who witnessed all of these traumatic experiences whilst Emma was physically living them, understandably had a very different reaction and, along with the love for Bonnie, it is the navigation of their two very different responses that is at the heart of their story.  
The couple explain to me that in the aftermath of Bonnie's death they were in very different places.  Emma says: "We didn't have the inquest for Bonnie until September, she had died in January. We were then preparing things for the inquest, and it all had to be very factual – I was in shock most of this time whereas James was a bit more connected to the emotions of what had happened. The inquest was a very daunting thought but the support of our friends and family really helped to guide us through it.  It was a very difficult experience but we're glad that we did it as change for others has resulted from it."
It was during the media coverage of the inquest into Bonnie's death that the couple found their way to Petals.  Emma explains: "Karen [Petals Founder and CEO] actually found us, she saw us on the news, and approached our solicitor, Guy Forster, to offer her help. She said that she could see in our faces the pain we were going through."
The way in which James and Emma go on to describe the process they then went through with Petals beautifully encompasses everything that our counselling service is about. 
James begins: "Within a couple, the experience for each person was very different.  I, as a spectator in some way, and Emma in the moment of what happened – it was two different experiences of the same situation.  I found going over it again really hard and whilst I did it for Emma because that's what she needed, in order for her to open up and come to terms with what happened, from my perspective going over the details was extremely hard. 
I found that painful and Karen never forced me to do that which was great.  I think what Karen really helped us understand was that we needed to accept where the other one was and how they are dealing with it and not try and change it.  It was a process we needed to go through, you couldn't change how each other felt and for me, the main thing that came out of our sessions was acceptance of each other's feelings and it was Karen that helped us to realise and understand that."
Emma agrees: "I think we went through different stages of the grieving process at different times because I was in shock for a long period whereas it was real a lot earlier on for James.  Petals helped us to accept the stage that the other one was in and not worry that we should be doing something about it or trying to change it.  Our sessions with Karen helped me to process what happened and it really helped James and I understand each other – I used to worry and wonder how can I help James, but to realise actually just to accept, really helped. Karen helped us understand how we were responding and accept each other's feelings".
Emma confesses that she had already been for a couple of sessions with a different counsellor before Karen got in touch with them and that it was a completely different experience.  She says: "I had seen another counsellor before and it seemed their aim was to make me upset which didn't help and I think because of our previous experience, we possibly wouldn't have gone searching elsewhere.  So, we feel very lucky and grateful that Karen approached us."
James believes this is where Petals makes the real difference: "The experience they have of that specific trauma or experience is better than that of a counsellor who is counselling for other things.  There is much more understanding of that type of scenario and that pushing of buttons isn't necessarily the way to go.  It was more about helping you to see how you were feeling and to open up."
Emma goes on to tell me more about how the Petals counselling really helped her to come to terms with what had happened and to really go through that process of opening up saying: "I think it wasn't until then, in those sessions that I accepted what had happened.  I was in one of my sessions when I suddenly had the realisation that Bonnie had died – it really helped bring me to terms with what had happened and to connect to my emotions and then it was a really different feeling to what I had been feeling. I probably then started the grieving process and Karen really helped us work through that whole process and connect to those feelings and really move through it as smoothly as possible and as time went on, she helped signpost us towards health professionals who may help us in the future."
As ever, it was in this work of carving the path to the future that Petals had the most lasting impact and in Emma and James' case it took varying routes – at first it was about helping them feel like they could make a space for Bonnie in their home.  Emma says: "We put a shelf up and put Bonnie's photo up with a few special things, her blanket, a little teddy, so she had a space in our home and things like that really made a difference."
It was also about enabling Emma and James to feel like they could contemplate and later go through with another pregnancy. Counselling played a big part in this, but it was also Karen, through her networks, signposting Emma and James to others who truly understood their experience that also helped. 
James says: "We really want to mention Andy Leather who was our consultant as he was massive in getting us through, without Andy, Karen and a very special friend we wouldn't have had another baby.  Andy, throughout the whole process, was very humble – a lot of the hospital had closed ranks after what happened and that's not how he was, and he did everything he could to help us."
Emma strongly agrees and says: "Yes, Andy couldn't have done more to support us through having Boe and our very special friend, Christine Colbourne, supported us through the loss of Bonnie and our pregnancy with Boe, she even drove across the country in the middle of the night to be with us whilst I had Boe"!
Boe is now four and James describes how important this was for them as a family: "If we hadn't have had Boe, I think we would still be in some sort of mess, to be honest with you because going through that process again, having Boe was… well we didn't really, until she had been born and a few months old probably, really sort of accept that we'd got her." Emma agrees, saying: "We shut down in fear of what might happen again.
Cherishing the family unit has become central to Emma and James' life and they speak with passion about how they involve Bonnie in their day-to-day lives and about how important it has been for them to be able to talk to Percy, now nine, about his sister.
Emma explains: "This also had a big impact on our son, Percy, he was two at the time and at that age they can't vocalise everything, but they can see you going through it all, so we tried to talk to him about it and he's got a good understanding now and we try to do positive things with Percy in Bonnie's memory.  We planted a little woodland and he helped sprinkle the grass seed and plant trees and things like that."
James jumps in with a wonderfully proud voice to say: "And now he gets on the mower and mows all around the trees! And it's referred to as Bonnie's wood." Emma continues: "Bonnie is still a part of our family and we're very open with that. We cherish Percy and Boe and we all get so much joy from each other, we count our blessings, we really do."
It is very often the case that couples who have had support from Petals feel that they would like to give back in some way and the doing of this can become another important part of the healing process. 
This was certainly true for Emma and James, as Emma explains: "We felt like we really wanted to give something back afterwards and so we held an event called Songs of Spring at Rendham Church about a year after we had Bonnie and we raised £1k.  Karen came and we had friends and family singing and tea and cake afterwards so people could look around Bonnie's wood.  It really is the most beautiful location and there were lots of children running around and it had a really joyful feel to it and was a nice positive way to remember Bonnie and raise some money for Petals."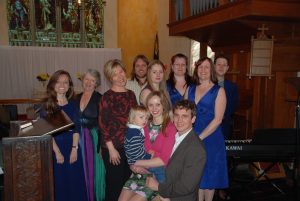 Emma believes that it was through Karen's support that they were able to reframe the way they thought about Bonnie and her death into something that enabled them to hold this wonderful event.  She says: "How Karen helped us work through those emotions, helped us remember Bonnie in a different way and get in touch with those feelings so then we had more loving memories rather than just the factual trauma."
The couple also played a key role in helping Petals to establish a counselling service at Ipswich hospital, where Bonnie was born, when Emma bravely told her story to the CEO of the hospital trust – that Emma did this is something that Petals will be eternally grateful for, as will the many parents who have benefitted from the Ipswich service since.
Bonnie's legacy has also been felt nationally as following the inquest, their case went to the Chief Medical Officer and ultimately resulted in changes being made to the NICE guidelines to say that a consultant must be present for all complicated labours such as breech birth.  Emma says in her quiet and understated way: "In a way, you think well, that's something positive that's come out of this sad experience." And my goodness, isn't it?! There is no doubt that these changes will have saved lives.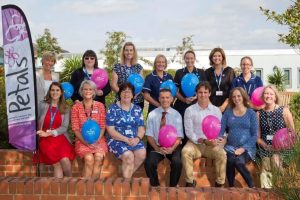 I think back to the start of our conversation when Emma and James mentioned having been to see another counsellor and I wonder out loud if it had made them very sceptical about opening up to Karen.  But Emma says: "No, I felt open to going to see Karen. Because she had said to us that she could see in our faces the pain we were going through, I already felt she had a good understanding before meeting us."
She continues: "There was quite a lot of media involvement and we had been approached for newspaper articles, mostly before we were in touch with Karen, which made it a very different story, you know just all very factual.  Whereas, once we got in touch with Karen, it was a lot more emotional and that was so important to go through that.
When I was doing the interviews I was in that shock phase so I could quite easily reel off all the facts of what happened and I felt like that was all I could do to make a difference so I felt maybe if I was doing that, it would result in positive changes for the future – quite a lot of my energies were focused on that but then, obviously, I realised I wasn't dealing with what I needed to myself so it really was a blessing that Karen got in touch with us."
Emma then says: "You know, after every session with Karen, I felt lighter, a little bit lighter every time." And I am struck once again by the understanding that it is so significant for grieving couples to have a service like Petals to really be able to share their experiences with.  We can have the most supportive of friends and families, as Emma assures me they did, but to have someone who can sit with and hold all of your pain and trauma is a game-changer.
I ask Emma how different she thinks her experience would have been without Petals and she replies: "Without Karen, it's very hard to know, I think the whole process would have taken a lot longer to go through.  She was such a key part of this process for us as a family, we are just eternally grateful for that, and we hold such a special place for Karen and Petals.  It's so special what she has to offer and it appears to be quite different and unique from anything else that's out there. It was integral to our healing." 
And that for me sums up everything that I have heard about Petals in compiling these special stories so far – that this service that can provide something so significant at the most traumatic of times is unique and that we must do everything we can to make it available to anyone experiencing the devastation of baby loss.