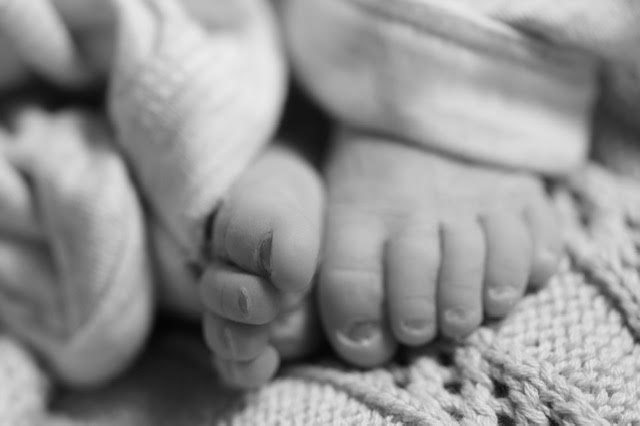 Alice & Dave's Story – in honour of Vera, born 16th October 2016.
Meet the wonderful, Alice and Dave.  Dave an IT company sales director and Alice, a nurse, had been together for six years, were recently married and living the same fun, full-on life of many young couples when they happily found themselves expecting their first child in 2016.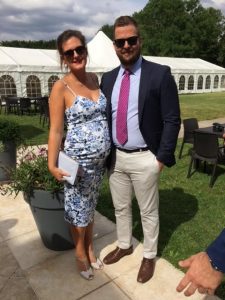 I spoke to Alice and Dave to hear about their daughter Vera who was stillborn and to learn more about the specialist counselling they received from Petals following her death.
The pregnancy was, in Alice's words, "pretty bog-standard" and the couple had been doing all the usual nesting and prepping for the arrival of their baby.   At nearly 38 weeks, Alice had a day where she realised the baby wasn't moving very much so went into hospital to get checked out.   The monitoring showed that Vera wasn't moving much, but she was moving and there were no concerns, so Alice returned home.
Alice continues the story: "The next day, I remember we went to the cinema, and I said to Dave that evening that she's still quite quiet, but we've got our 38-week appointment tomorrow so it's fine, and then she did a really big kick that evening."
It was at the appointment the next day that Alice and Dave's world crumbled.  They found themselves with a student midwife who was unable to find a heartbeat.  Neither could the senior midwife who came next.  Finally, a scan confirmed that, heartbreakingly, their baby had died.
Taking herself back to that truly awful time, Alice tells me what happened next: "We were then put in this weird room where someone came and spoke to us and told us we need to go home for two days which we just couldn't understand, and I was like 'What do you mean we have to go?!'
It was never really explained why those two days had to be spent at home and at the time it felt like an awful thing to do to parents in this devastating situation but looking back Alice is grateful for this time.  She says, "it meant we had time to unpack nappies and things out of the bag, it allowed us to make different choices about certain things." With her voice cracking she tells me that "really sadly it gave me two days with my baby, two days of thinking maybe they've got it wrong".
Alice and Dave returned to the hospital two days later and experienced what they describe as a "hideous, hideous birth" after which Alice was incredibly unwell.  They had a wonderful midwife for the induction and do remember this time as peaceful.  They didn't know they were having a girl and whilst they were terrified, they also longed to meet their baby who they named Vera.
However, when Vera was born in the early hours of the morning on 16th October, Alice hemorrhaged and was rushed into theatre – Vera and Dave came into the theatre with Alice, an experience which she doesn't remember much about but one which was incredibly traumatic for Dave.
He explains: "In hindsight, I could have lost Alice as well, seeing her like that I felt my whole world was falling apart and I remember saying to one of the doctors there, 'I'm going to need some help after this.'  Alice says, "That particular two hours of our journey with Vera was the worst for Dave and is still the part he speaks about the least."
As Alice recovered from the physical trauma in intensive care, Vera was with them.  They gave her cuddles, read her stories, and made lasting memories of their beautiful daughter to hold with them forever before the time came to say goodbye.
Dave says: "Having looked familiar she started to change, and I think it was a good decision to say goodbye then as we remember what her proper face looks like and we see her face now in our other lad Fred which is such a nice memory to have."
Left reeling from the trauma of their experience and in desperate need of support, it was the couple's bereavement midwife from Queen Charlotte's hospital who put them in touch with Petals and they began seeing their counsellor, Karen, within a month of Vera's birth.
Alice was initially reticent about counselling and had Dave not been so keen she perhaps wouldn't have gone to that first session.  She explains: "I felt that if I went to counselling and it fixed me it would change how much I loved Vera and I didn't want anyone to fix that. There was a fear that it would just be processed and Vera would be moved to a 'fixed box.'
But within fifteen minutes of the first session, I was thinking 'thank God!', we are definitely in the right place.  It was the first time I could talk about Vera without making someone else unbearably sad. I had things I needed to ask, things I needed to say, but I didn't want to make my parents, my sister, or my best mate sad.  And there were other things that I wanted to say to Dave, but I needed to be in that safe space to be able to have those conversations and that's what Petals did – they gave us that opportunity to really talk about Vera.  And the first few sessions were just about that – the tragedy of it, the trauma, the sadness, and the pure heartbreak but by the end of it I can say that Petals helped us feel the love more than the loss."
I would say to Karen I feel like I'm never going to be happy again, that I'm never going to function again, and you can't say those things to family and friends.  She had this incredible way of making us feel like we weren't going mad, that we weren't completely broken and that there is still life ahead.  There will still be joy, there will still be celebrations that I couldn't foresee at all.
I always remember saying to Karen, 'I need her to be part of the family and I don't know how to do that.'  Karen helped us to weave Vera into our family – she became our daughter who is part of our lives, who our children now talk about and who we can ease into conversations."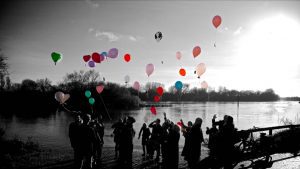 When Alice became pregnant again it was, understandably, an incredibly anxious time but Petals counselling gave the safety and the space to say the things that couldn't be said anywhere else.  Alice reflects: "I remember saying to Karen that I was worried I wasn't going to love the baby, because how could I love someone else as much as I loved Vera?  If the baby survived, what if I don't love it properly?  And the other aspect was if the baby dies, I can't do it again, I just can't.
Karen helped me with my fears and with how I could support and protect Dave if the horrible labor thing happened again. One of the best things was that Karen never said, 'it's all going to be ok.'  It was always just gentle reassurance.  People start to make those comments of 'oh you're pregnant again, you're fixed now, you'll be ok now', but for me, being pregnant again was like a magnifying glass on everything that had gone wrong before."
We all agree that the reality of baby loss is still so taboo and that people who haven't been through it can't let themselves go there, can't let themselves see the unimaginable.  Dave agrees, saying, "We still get that now – the comments of 'at least you've got Fred and Ralf', but that's where Karen has helped – you can hear those comments now without getting angry or over emotional about it."
It is well documented that couples can often struggle to maintain their relationship after the loss of a child with statistics showing a 40% higher chance of relationship breakdown.   I ask Alice and Dave how important the counselling they had was to their relationship and Dave sums it up brilliantly: "If Vera could find a positive place it meant that there was still something positive between us – if she had found a negative place, would we have turned negative."
Alice expands on this, explaining that it goes beyond just them as a couple to them becoming a family again.  She says, "What Petals did was help give us more building blocks and foundations for our family. Without a doubt, we wouldn't have gone on to have more children without Karen.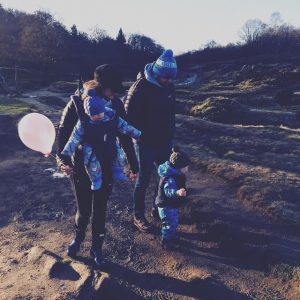 Karen taught us that any emotion we feel is ok – when Vera was born, I just adored her, I felt that wave of love that you hear about but when Fred was born, I felt a massive wave of relief but didn't immediately feel that same love.  It took a couple of days for that to come.  Karen had prepped us for this and that whatever we felt when the baby is born is ok.  It allowed me to not panic or worry about how I was feeling.  She guided us through that so beautifully and without her, it would have been horrific."
Petals became an integral part of Alice and Dave's family life and they felt very strongly that they wanted to do something to thank and support the charity going forward and a vision for Vera's Ball (that would go on to raise an astonishing £45k) was born.
The ball however became something that was so much more than just a fundraising event, it became a fundamental part of Alice and Dave's healing.  Alice says: "I was getting towards the end of my pregnancy with Fred, and we just needed to do something.  I needed something tangible that I could hold and touch and do.  I was becoming two people's mum, but Vera wasn't here, and we just needed something more that was for her.
When you have a baby – people send you cards, you send photos of them to your friends and family, you reach milestones, you dress them up for world book day, but Vera didn't have any of that and I wanted something tangible for her.  I wanted more people to know how wonderful she was, that she had my eyebrows and big feet – the things that no one asks you about when your baby has died.  No one says, how was the birth? No one says, how much did she weigh? No one asks, who does she look like? So, I wanted to stand up in front of a room of people and tell them what she was like.  I think that's a really normal parent thing to do, to want to tell people about your baby – so it was really important in our journey.  To write her name all the time, to see her name, to have it written on the menu. She just felt present."
To have raised such an enormous sum of money was really meaningful to them both too.  Dave says, "We wanted to do more than just raise enough to support another couple, we wanted to raise enough to allow Petals to scale, to enable them to reach more. It was so much work and emotional in up and down ways, but we saw the impact of it and we would love to do it again in the future."
Towards the end of our conversation, I asked Alice and Dave if they could sum up what Karen has done for them and Dave jokes, 'No!' – telling me with just one word and a moving facial expression that the enormous breadth and impact of Petals counselling is almost beyond description.
Alice says something that brings us both to tears: "I call Karen my lifeboat – and what I mean is she equipped us with a lifeboat and somedays it feels like we are on a dingy sailing horrific seas and on other days it feels like an enormous cruise liner on smoother seas but, no matter what, the lifeboat is always there, and more than that, what Petals do and what Karen did for us is to get into the lifeboat with us when we were sinking and helped us spoon the water out.
Somedays I can wake up and even though nothing has happened, and nothing is different I just know that my lifeboat is rockier and then I can just run through a conversation I had with her or think over something that she said, and I feel more positive again.  I don't feel like I'm the mother of a dead child, I feel like I'm the mother of three wonderful children and that is all down to Karen.
I remember the funeral and thinking of it as just a job, that I didn't want anyone there I just wanted to survive it and she said to me, you need to make it special for her in some way and encouraged me to choose a story for her.  I did and the vicar read it and it was just me and Dave and it was horrific but now I read that story to my boys all the time and I don't say to them this is Vera's book, but it is my way of being in bed with all three of them."
It was such a privilege to talk to Alice and Dave as part of the Petals 10th Anniversary Case Studies collection.  To be given the time to hear about Vera, to hear about the impact of the very specific counselling they had from Petals was an honour and I wish them and their family all the love, health and happiness they deserve in the future.